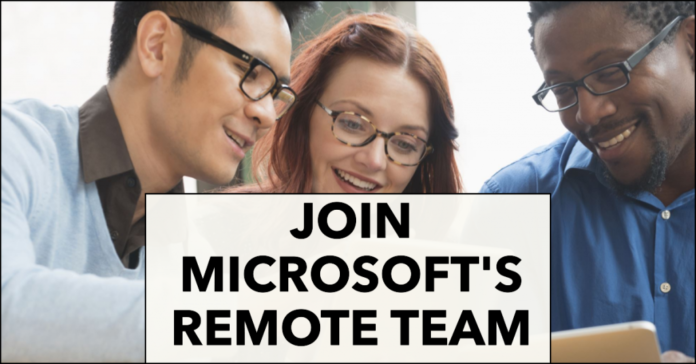 Introduction Tired of your daily commute? You're in luck because Microsoft is hiring, and they have a whopping 20 positions that offer 100% remote work. In this article, we'll delve into these diverse remote job opportunities at Microsoft, providing not only the convenience of working from home but also competitive salaries.
Director of Testing Microsoft's constant innovation and updates require rigorous testing. As the Director of Testing, you'll work closely with the Chief Technology Officer to develop and implement testing strategies for Microsoft's products. You'll also manage a team of test engineers to ensure successful product launches.
Salary range: $173,200 – $282,200 per year
Content Product Manager If you're a gaming enthusiast and want to work from home, the Content Product Manager role could be an ideal fit. You'll be part of the Xbox Game Pass Deal & Partner Strategy team, shaping the content portfolio and value proposition for key external partners in the gaming industry.
Salary range: $120,900 – $198,600 per year
Responsible AI Governance Program Leader With the increasing importance of AI, Microsoft is committed to responsible AI development. You will be in charge of creating and implementing a governance program to guarantee adherence to the responsible AI principles in your capacity as the Responsible AI Governance Programme Leader.
Salary range: $142,200 – $213,200 per year
Cloud Solution Architect-AI Platform Microsoft is a pioneer in AI technology, and the Cloud Solution Architect role involves helping customers integrate AI into their operations. This position requires expertise in Microsoft Azure AI and Machine Learning.
Salary range: $130,000 – $213,200 per year
Security Operations and Incident Response Lead Security is paramount for a company like Microsoft. The lead on security operations and incident response will be in charge of leading the response to significant security issues and coaching less seasoned analysts.
Salary range: $145,800 – $238,600 per year
Product Designer OneDrive from Microsoft is a popular cloud storage option. Working with researchers, writers, and engineers to improve the OneDrive platform's user experience, the Product Designer will innovate and optimize it.
Salary range: $100,300 – $165,400 per year
Senior Software Community Engineer – Linux Linux has a dedicated user base, and Microsoft is enhancing its support for Linux developers on Azure. As a Senior Software Community Engineer, you'll improve the Linux and cloud-native experience on Azure.
Salary range: $145,800 – $238,600 per year
Director of Identity and Security Strategy Security is paramount at Microsoft. The Director of Identity and Security Strategy will shape the strategic direction of identity and security systems, ensuring they align with Microsoft's strategic requirements.
Salary range: $173,200 – $282,200 per year
Group Manager Event Operations Marketing events are crucial for businesses, and Microsoft is hiring a Group Manager Event Operations to deliver large-scale global marketing events and manage a team.
Salary range: $142,200 – $213,200 per year
Director of Artificial Intelligence & Ecosystem Readiness Microsoft collaborates with device partners to provide AI solutions. The Director of Artificial Intelligence and Ecosystem Readiness will lead AI strategy and enable readiness with Microsoft's device partners.
Salary range: $159,000 – $264,000 per year
Senior Supply Planner Microsoft's continuous expansion requires efficient data center supply planning. As a Senior Supply Planner, you'll deliver capacity plans that balance cost, lead time, and risk in line with supply chain management best practices.
Salary range: $117,900 – $195,000 per year
Cloud Security Engineer As a Cloud Security Engineer, you'll be at the forefront of safeguarding Microsoft's cloud infrastructure. Your role involves identifying security threats, implementing protective measures, and ensuring the safety of Microsoft's cloud services.
Salary range: $142,200 – $236,000 per year
Customer Success Manager In the role of a Customer Success Manager, you'll work with Microsoft's enterprise customers to drive product adoption and ensure customer satisfaction. Your expertise will help customers maximize the value of Microsoft products and services.
Salary range: $123,000 – $205,000 per year
Senior Data Scientist If you're passionate about data analysis and AI, the Senior Data Scientist position at Microsoft might be a perfect match. You'll leverage data to gain insights, build predictive models, and contribute to cutting-edge AI initiatives.
Salary range: $130,500 – $217,500 per year
Software Engineer – Azure DevOps Microsoft's Azure DevOps platform is a critical part of their cloud services. As a Software Engineer in this role, you'll contribute to the development and enhancement of Azure DevOps tools, ensuring the smooth operation of cloud-based applications.
Salary range: $123,000 – $205,000 per year
User Experience Researcher User experience is a top priority for Microsoft, and the User Experience Researcher plays a key role in understanding user needs and preferences. Your research insights will guide the design and development of Microsoft's products and services.
Salary range: $109,800 – $181,800 per year
Data Center Technician Microsoft's data centers are the backbone of their cloud services. As a Data Center Technician, you'll be responsible for the maintenance and operation of these critical facilities, ensuring the reliability and performance of Microsoft's cloud infrastructure.
Salary range: $85,500 – $141,800 per year
Business Development Manager – Cloud Solutions In the ever-evolving cloud market, the Business Development Manager will identify and pursue new business opportunities for Microsoft's cloud solutions. You'll work with partners and customers to expand Microsoft's cloud presence.
Salary range: $132,900 – $220,500 per year
Legal Counsel – Privacy and Compliance Privacy and compliance are of utmost importance in today's digital landscape. As a Legal Counsel, you'll navigate the complex legal and regulatory landscape, ensuring that Microsoft's operations comply with global privacy and data protection laws.
Salary range: $144,600 – $239,400 per year
Technical Program Manager Microsoft's diverse projects and initiatives require effective coordination and management. As a Technical Program Manager, you'll oversee and drive the success of complex technical projects, working with cross-functional teams to achieve Microsoft's goals.
Salary range: $129,600 – $215,000 per year
Conclusion Microsoft offers a wide range of exciting remote job opportunities with competitive salaries. Whether you're interested in gaming, AI, security, data centers, or business development, there's a remote job at Microsoft that suits your skills and preferences.
Frequently Asked Questions
How can I apply for these remote jobs at Microsoft? To apply for these positions, visit Microsoft's official careers website and search for the job title. Follow the application instructions provided on the job listing.
Are these positions open to international applicants? Microsoft hires talent globally, so these positions are open to both local and international applicants.
What are the qualifications required for these roles? The qualifications vary depending on the job. Check the specific job listings for detailed qualifications and requirements.
Can I work remotely from anywhere for these positions? Yes, these positions offer 100% remote work, allowing you to