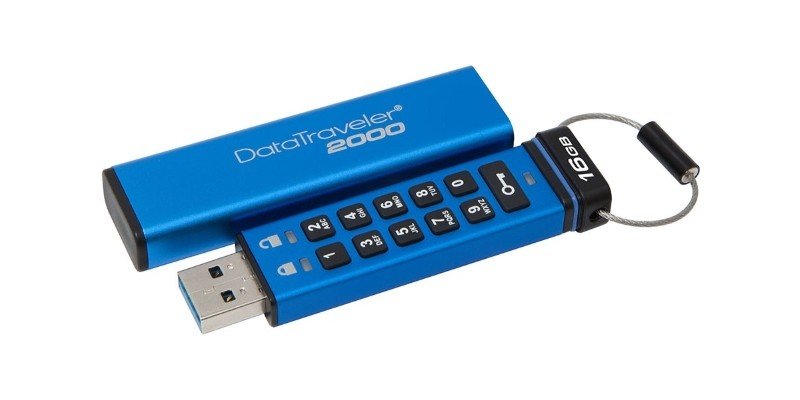 Short Bytes: Kingston Digital, one of the world leaders in memory products, has released DataTraveler 2000 encrypted USB Flash drive. This portable memory device offers best-in-class security features like hardware encryption and PIN protection with an onboard keypad. The device is expected to ship in Q1 in 16GB, 32GB and 64GB capacities.
A
t CES 2016, Kingston has announced a new USB drive that'll make the life easier for the privacy concerned users. This secure DataTraveler 2000 encrypted USB Flash drive is created to provide the best possible security measures to the IT professionals for carrying sensitive documents.
The USB drive looks impressive right from the outside. As you pull out the outer aluminum cover, a built-in keypad will be there to surprise you. When inserted into a computer, you'll have to unlock the device by entering the correct PIN. Failing to do so in 10 attempts, the USB will self-destruct — sounds just like the pen drive from Hollywood flicks like Mission Impossible, right?
This USB 3.1 compatible thumb drive offers speeds of up to 135MBps read and 40MBps write. On the security front, DataTraveler 2000 comes with hardware-based full disk AES 256-bit encryption in XTS mode. The drive also protects your data from bruteforce attacks.
Kingston DataTraveler 2000 USB — PIN protection, AES 256-bit data encryption, resists bruteforce attacks
For additional protection, Kingston's super-secure USB drive features the option of auto-locking the drive by deleting key and password files after 10 invalid login attempts.
"We are excited to add DataTraveler 2000 to our existing lineup of fast and encrypted USB Flash drives for organizations and SMBs," said Ken Campbell, Flash business manager, Kingston. "It is the perfect option to deploy in the workforce where a uniform encrypted data storage solution that works on many different OS' are in use."
This OS independent USB drive works with all popular operating systems, even Android and ChromeOS. The DataTraveler 2000 is available in 16GB, 32GB and 64GB capacities.
The DataTraveler 2000 is expected to hit the markets in the end of 2016 Q1.
Are you excited about this upcoming USB drive from Kingston? Tell us in the comments below.