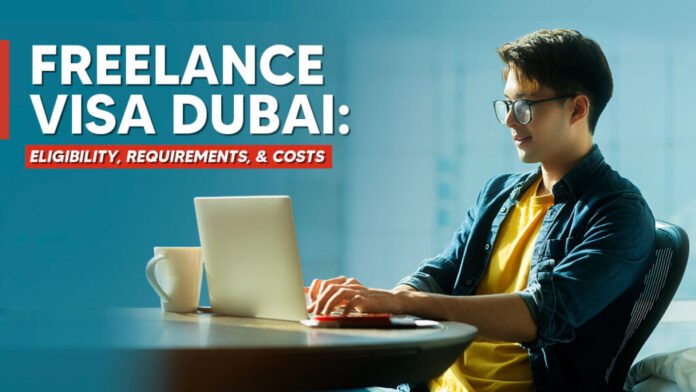 Are you a freelancer seeking new opportunities in the UAE? The United Arab Emirates (UAE) is a land of immense opportunities, attracting professionals from various fields around the world. If you are considering freelancing in the UAE and need a visa to make your dreams a reality, you've come to the right place. In this comprehensive guide, we will walk you through the process of obtaining a UAE freelancer visa online, step by step.
Understanding the UAE Freelancer Visa
Before we dive into the application process, let's understand what a UAE freelancer visa entails. The UAE freelancer visa is a type of residency permit that allows individuals to legally work as freelancers in the country. It provides freelancers with the freedom to work on multiple projects without being tied to a specific employer. This visa is an excellent option for self-employed professionals who wish to explore the thriving business landscape of the UAE.
Step-by-Step Guide to Obtaining a UAE Freelancer Visa Online
Step 1: Research and Eligibility
The first and crucial step in obtaining a UAE freelancer visa is to conduct thorough research and determine your eligibility. Ensure that you meet the necessary criteria set by the UAE government for obtaining this visa. Generally, the eligibility requirements include:
Being at least 18 years old.
Holding a valid passport with a minimum of six months' validity.
Having a specific skillset that is in demand in the UAE.
Step 2: Choose the Right Freelancer Visa Type
The UAE offers various types of freelancer visas, such as short-term and long-term visas. Identify the visa type that best suits your needs and aligns with your intended duration of stay in the country.
Step 3: Prepare the Required Documents
Once you have determined your eligibility and selected the appropriate visa type, it's time to gather the necessary documents. Commonly required documents include:
Passport-sized photographs.
Scanned copy of your passport.
Updated CV or resume.
Portfolio showcasing your work.
Attested educational certificates and professional qualifications.
Step 4: Online Application
With your documents in order, proceed to the official website of the UAE government's visa application portal. Complete the online application form with accurate and up-to-date information. Double-check all entries to avoid any errors that might delay the processing of your visa.
Step 5: Pay the Visa Fee
During the application process, you will be required to pay the applicable visa fee. The fee varies based on the type of freelancer visa you are applying for. Ensure that you make the payment through the secure online payment gateway provided on the government portal.
Step 6: Submit Biometrics and Attend Interviews
Depending on your nationality and visa type, you may need to visit a designated visa application center to provide biometric data. Additionally, some applicants might be called for an interview to assess their suitability for the visa.
Step 7: Visa Processing and Approval
After completing all the necessary steps, the UAE authorities will review your application. The processing time can vary, but it typically takes a few weeks to receive a decision. Once your visa is approved, you will receive a visa stamp in your passport or an electronic visa.
Step 8: Enter the UAE
Congratulations! With your UAE freelancer visa in hand, you can now legally enter the country and embark on your freelancing journey. Make sure to abide by all the visa regulations and laws during your stay in the UAE.
Benefits of a UAE Freelancer Visa
Obtaining a UAE freelancer visa comes with a plethora of advantages:
Flexibility: As a freelancer, you have the freedom to choose your clients and projects, giving you greater control over your career.
Access to Global Clients: The UAE's strategic location and business-friendly environment attract clients from all over the world, providing you with a diverse range of opportunities.
Tax-Free Income: The UAE offers a tax-free environment for freelancers, allowing you to maximize your earnings.
Networking Opportunities: The country hosts numerous industry events and networking platforms, enabling you to connect with potential clients and collaborators.
Cultural Experience: Living and working in the UAE exposes you to a rich cultural heritage, broadening your horizons and enriching your life experiences.
Mermaid Diagram: UAE Freelancer Visa Process
graph TD;
A[Research and Eligibility] –> B[Choose the Right Visa Type];
B –> C[Prepare Required Documents];
C –> D[Online Application];
D –> E[Pay the Visa Fee];
E –> F[Submit Biometrics and Attend Interviews];
F –> G[Visa Processing and Approval];
G –> H[Enter the UAE];
You can apply for UAE Freelance VISA here.
Conclusion
Embarking on a freelancing journey in the UAE can be a life-changing experience. The UAE freelancer visa opens doors to a world of opportunities, allowing you to work independently and explore a thriving business landscape. By following the step-by-step guide provided in this article, you can confidently apply for your UAE freelancer visa online and take the first step towards a successful freelancing career in the UAE. Remember, each applicant's situation may differ, so always ensure to stay updated with the latest visa regulations and requirements. Good luck on your new adventure!